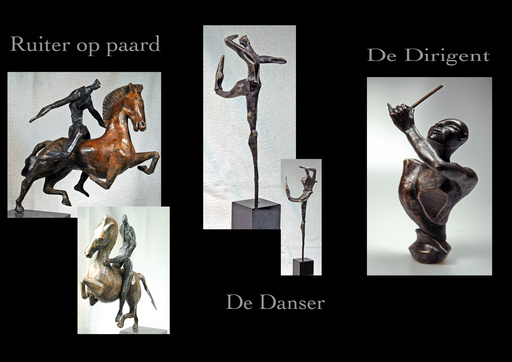 Joop van Nugteren geboren 1 maart 1950 te Rotterdam De afgelopen jaren specialiseerde Joop zich vooral in brons in diverse vormen en kleurstelling. De vele positieve reacties inspireerden hem om deze creatieve, beeldende weg te volgen.
After a radical change in his personal and professional life, Joop got involved in sculpture, and created a number of works in stone. He completed various courses, in France and in the Netherlands, to acquire further skills in the use of material and design techniques.
In recent years, he specialized mainly in bronzes of various shapes and colour schemes. Many positive reactions inspired him to continue on this journey of creative expression.
Often the bronzes represent the process of man's development, culminating in the expression of the full potential of possibilities and talents. Individual perception and instinctive reaction are at the centre, each sculpture illustrating its own theme. The female shape often represents the emotional point of view.
Apart from the projects mentioned above, Joop also takes commissions. Sculptures were commissioned, among others, by Zita Advertising Agency in Ridderkerk, Crater Human Training Centre in Mijnsheerenland, and Bureau Trapeze in Amersfoort.TNO Apeldoorn, DylanGroup, Alex de Nie optiek.
The sculptures in bronze are exhibited in his studio, as well as in various galleries in the Netherlands. Abroad, his work is displayed in the United States, Belgium and France.
The next exhibition is planned in Spain.